Shopping Feed Tips for a Smooth BTS Season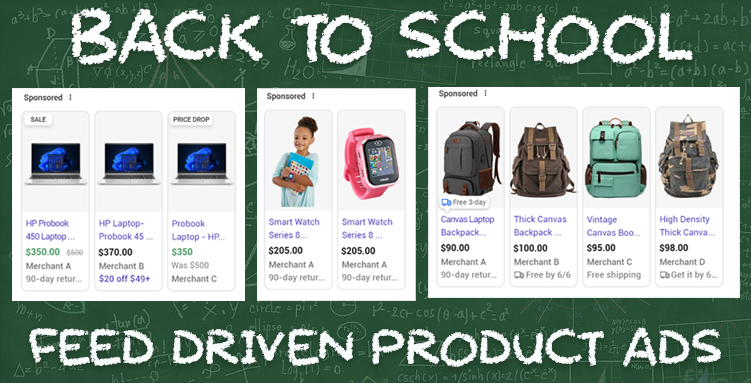 With back-to-school (BTS) spending
expected to reach a new high in 2023
, advertisers need to ensure their online digital ad strategy is prepared to capture as many purchases as possible.
Here are some specific tips for the feed driven product ads to get you ahead of the game:
Highlight promotions and special deals across Search and Social campaigns



Use Google Merchant Promotions or utilize the "Sale" badge and annotation - see how here. If your regular price will be dropping without an official sale, see how Google will automatically add a "price drop" badge to your listings to help it stand out in search results.


Create Ad sets in Meta to highlight your specials, and map the appropriate products to the related product sets with dynamic custom labels in the feed to ensure all eligible products are included. Consider leveraging Meta's Ad Creative Tools to add Catalog Info to your listings. Using the Manual Overlay Text option, can you have Facebook dynamically highlight your sale in a variety of ways on applicable sale products to catch attention.




Use lifestyle images in product ads, especially for items in apparel, accessories and shoes categories



Unsure if lifestyle images are right for your products? Try A/B testing lifestyle vs. plain background/unstaged product images (reach out to VersaFeed Support for help setting up your test!)




Add your complete shipping and return policy to Google Merchant Center



Ease of returns can be a deciding factor in a purchase. See here for more info on the return annotation
Shipping price and speed can also play a crucial role in winning the PLA click. Learn more here how to highlight shipping in PLAs.

Check your product feed for accurate product categories, titles, descriptions and identifiers (GTINs/UPCs/barcodes).



Search engines depend heavily on these attributes to determine where and when to serve ads for your items.
Google Product Search Meta Google Best Practices Product Listing Ads
---