Google Shopping Campaigns: Details
Creation
Google Shopping Campaigns (GSC) can be created by clicking
"+ Campaign" then "Shopping" within AdWords.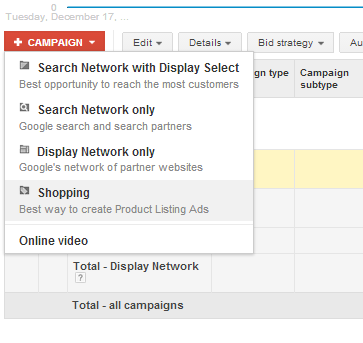 After
the new campaign is created, new options of note are:
1.
Campaign priority: If there are multiple Google Shopping Campaigns with bids on the same items, this setting chooses which campaign will receive priority. Previously, the highest bid would always be used.
2.
Inventory filter: prevents items in the feed from even reaching this AdWords campaign). VersaFeed recommends leaving this alone and allowing all products to list – if you have extremely low value items simply bid them down heavily.
Bidding
Bidding is accomplished by "subdividing" your products based on criteria such as sku, brand, or category. GSC makes this process very visual as shown below: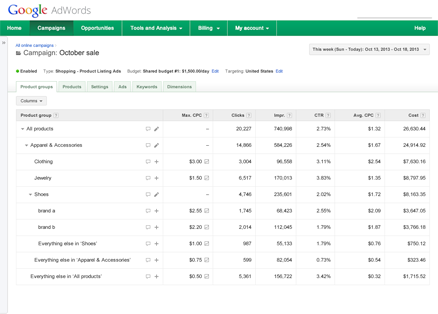 In this example, the merchant has initially subdivided their products by category, specifying bids on "Clothing", "Jewelry" and "Shoes". The "Shoes" category was further subdivided on "brand a" and "brand b". Subdividing products in this fashion is easy, simply click on the "+" icon next to any group that needs further refinement and you will see a screen similar to below.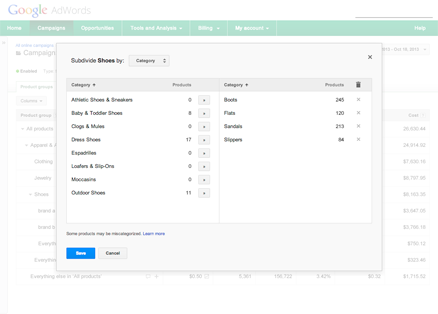 Please note that for any items subdivided, there will always be an "everything else" Product group. This group can be turned off by clicking the bid and selecting "Excluded". Alternatively, you can set the "everything else" bids low if desired.

Negative Keywords
Google Shopping Campaigns only support negative keywords at the campaign level. You cannot set negative keywords for individual AdGroups or Product groups. This is a fairly big shortcoming and hopefully Google will address it in the future.
Custom Labels
Similar to older style "adwords labels", GSC uses "custom labels" to allow merchants to subdivide their products on outside criteria beyond sku, brand, and category. VersaFeed enables merchants to create custom labels via our "Feed Modifications" area in the dashboard (see "Best Practices" blog for further information). Google only allows 5 custom labels so use them judiciously. Example uses of custom labels would be:
price tiers ($0-$25, $25-$100, $100-$500, etc.)
item price margin (10%, 20%, 30%, etc.)
season (spring, summer, fall, winter)
pricing (regular, sale, overstock, etc.)
hard to define groupings (e.g., "sandal" in product title, "leather" in description, and price > 100). These are simple to setup in the VersaFeed dashboard.
Sales Tracking
GSC's most important improvement is likely the ability to track sales stats on SKUs, brands, categories, etc. Please ensure that you have
AdWords conversion tracking configured properly
to utilize this feature. To view tracking info, first change to the "Dimensions" tab, then change the "View" dropdown to "Shopping" and then select "Product Type," "Brand" or "Item ID". You will be presented with a screen similar to below: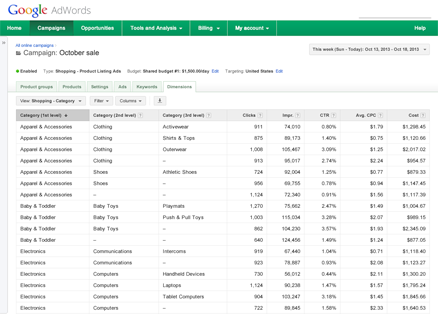 You may wish to add columns like "Total conv. Value" or "Conv. Value/cost". This can be done by clicking "Columns" then "Customize Columns." We recommend familiarizing yourself with this area as it enables you to pull out extremely important details to further refine bidding.
Competitive Metrics
GSC also shows competitive metrics previously unavailable. Google analyzes "similar products" to determine these stats and they may or may not be accurate:
Impression share (how often your product showed when it may have been relevant to a search term). A low number here indicates you may be underbidding.
Benchmark CTR: average CTR of "similar products". A low number may indicate an overpriced item, bad product image, or poorly crafted product title.
Benchmark CPC: average max CPC bid of "similar products". Similar to impression share, if you're being outbid you may need to adjust bids upwards.
You can view these stats in the "Product groups" tab in AdWords by selecting "Columns" then "Customize Columns" and adding "Competitive metrics" to your data.
PPC Bidding PPC Best Practices AdWords Product Listing Ads Knowledge Base Google Shopping
---