Buy on Google Overview
Buy on Google (formerly "Google Shopping Actions" and "Google Express") is generally considered Google's platform to compete with Amazon. It's a marketplace system where customers find products, checkout, and pay on Google.com--never visiting the merchant's website directly. Consumers can find products on Google web properties (most notably search) as well as Google Assistant (using their voice on an Android phone or Google Home speaker). There are hints that Google will also surface products in Buy on Google on TV's, YouTube, image search, and other areas.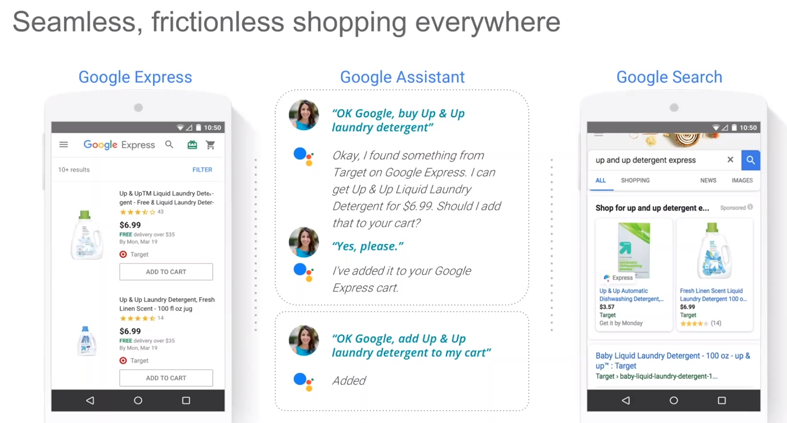 As such, Buy on Google is really a wrap-up and re-branding of many projects at Google. The big picture plan is to take market share from Amazon for consumers who are deep in the purchase funnel. All outward appearances suggest Google is going to push Buy on Google hard and devote significant resources to the project.
What does that mean for online merchants? A new sales channel that may be very significant. Let's take a look at the major wins that Buy on Google can bring to the table:
PROS:
(1)
Cost: Unlike PLA ads which are pay-per-click (CPC), Buy on Google is cost-per-action (CPA) where you're only charged if a purchase occurs. You pay, on average, 13% of the checkout price (update Q4 2020, Google has dropped this to 0%). This is how all marketplaces work, however, Amazon's average checkout price is usually higher at 15%. The CPA model means you can list any and everything because you're only paying when a transaction occurs.
(2)
Price competition: Unlike Amazon, Google isn't competing against you! On Amazon, if you're trying to sell commodity items, there's a strong possibility Amazon themselves is also selling them. It's not pleasant trying to out price a market behemoth AND pay their 15% checkout fee at the same time. With Buy on Google, Google is not competing against you.
(3)
Market your brand: On Amazon it's mostly forbidden to push your actual brand. There's no logos and very few mentions of who you are. You also can't remarket to your customers' email addresses. With Buy on Google, you can brand the checkout process with your logo AND (if the buyer allows it) email them in the future with other marketing endeavors.
(4)
Reach: If PLA is important to your business, you'll want to keep an eye on Buy on Google as well, because Buy on Google will actually be taking up some of the PLA screen real-estate. That's right, the small PLA image ad format that has taken over SERP listings will continue to exist -- but those same spots will also contain Buy on Google ads as well. In time, we may see PLA channel volume lessen as more Buy on Google ads surface.
And of course, there's always a negative side as well:
CONS:
(1)
How much product will you sell using Buy on Google? That's a good question and many merchants may want more concrete answers before they integrate.
(2)
Integration is a challenge. VersaFeed helps the integration pains on
several fronts
. However, most merchants still will need to have their dev team help to
integrate
with the Buy on Google ordering system.
Interested in pursuing Buy on Google for your online store?
Talk to a VersaFeed rep today
or continue reading additional VersaFeed articles
here
and
here
.
Google Google Checkout Google My Business Marketplaces Google Shopping Actions
---