Product Ratings for Shopping Ads & Free Listings
Google can show star ratings annotations on Shopping Ads and Free Listings for products offered by eligible advertisers - officially referred to as
Product Ratings
. Both the product and advertiser must meet certain requirements to be eligible. Find out more below: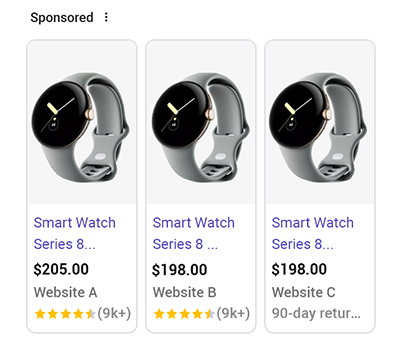 Product has to have reviews. Reviews can be from any retailer that sells this same product (Google leans on the GTIN value in the feed to aggregate across all retailers).
Let's assume Website A (in example above) gets 1,100 product reviews for this Smart Watch and Website B gets 8,500 product reviews for the same product. Google will aggregate all 9,600 reviews to calculate the rating score and the total is displayed on both advertisers' PLAs.
Advertisers have to share their site's product reviews (Google has to get this information from somewhere). For star ratings to be displayed on your Shopping Ads, you have to be contributing product review information and have at least 50 reviews across all your products.
In the example above, even though Website C sells the exact same Series 8 Smart Watch (which Google has information on its' product reviews), the Product Ratings will not show on their PLAs if they aren't contributing product reviews from their site to Google.
How do you share the product reviews with Google?
The most common way is through the use of a
third-party reviews aggregator
(like Bazaarvoice, PowerReviews, Trustpilot, etc) that also collect the reviews. Google has built-in integrations already with many aggregators so they are able to easily share this information with Google on your behalf. Otherwise, Google provides 2 alternative options:
Google offers a free service to help collect your product reviews which in turn also gives them the required insight needed for your Shopping ads/Free Listings to show the star ratings. This is done through their Customer Reviews program.
Google Product Search Seller Ratings Google Product Extensions Google Shopping Google Ad Annotations
---