Regional Availability and Pricing (RAAP) for Grocery Chains on Google Shopping
In response to a growing demand for convenient online shopping, grocery stores are rapidly adapting to increase their digital presence and expand order fulfillment options.
With the introduction of
Regional Availability and Pricing (RAAP)
last year, Google has made regional inventory and price information independent from physical storefronts, focusing on an entirely online end-to-end shopping experience. This feature is available across the Google Shopping network in both paid and free organic shopping listings, allowing merchants to customize product availability and pricing based on customer location while utilizing multiple order fulfillment options.
Prior to RAAP, grocery and CPG merchants were limited to Local Inventory Ads (LIA) which display in-store item availability to shoppers with the intent to drive foot traffic to their physical stores. However, the COVID-19 pandemic dramatically accelerated the popularity of online grocery shopping and delivery, with McKinsey's State of Grocery survey projecting that grocery e-commerce penetration will more than double in the next 3-5 years. ("State of Grocery North America," McKinsey, Feb. 2022).
As a result of this trend, Google rolled out RAAP to leverage Google Shopping listings to reach more grocery and CPG shoppers online without being limited to items on shelves in physical stores. RAAP feeds give merchants the ability to promote online products that are available for shipping or home delivery
where prices and/or availability may vary based on the customer's location.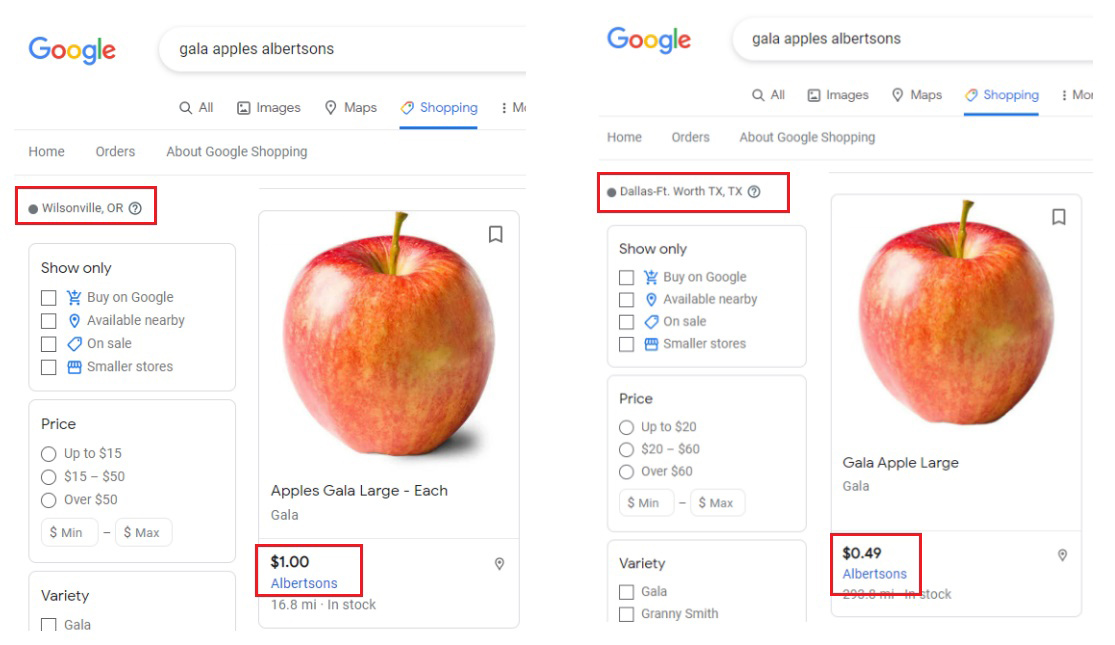 Product ads utilizing RAAP appear on the SERP with the same look and feel as traditional shopping ads. However, the data delivery set up itself is quite different within Google Merchant Center, as the regions for variable pricing and availability are uniquely defined by each retailer. RAAP ensures Google's crawlers will be able to accurately validate the various regional prices/availability in the RAAP feed with the regional prices/availability displayed online.
Contact VersaFeed
if you are looking for a feed solution to implement RAAP as part of your Google Shopping strategy.
Google Product Search Product Listing Ads Google Shopping Local Inventory Ads
---