Facebook Shops Analysis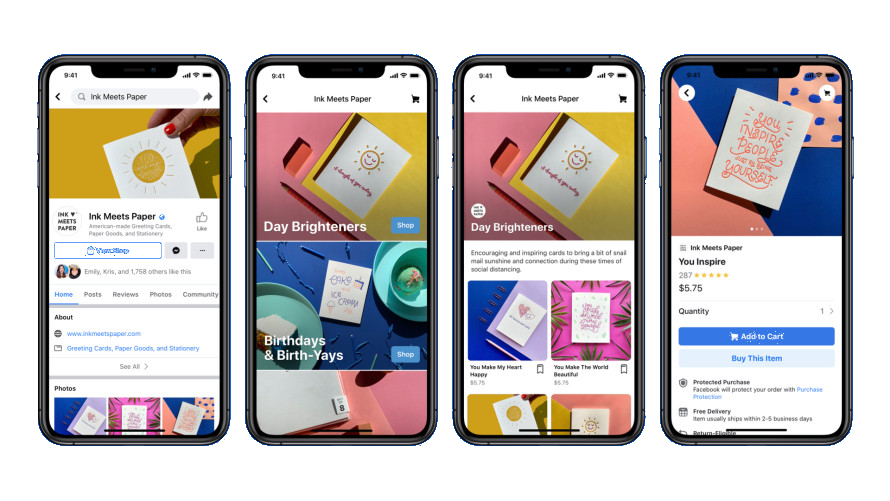 Key: FB/IG = Facebook/Instagram
(Note: Facebook Shops is rapidly changing, this information is accurate as of early June 2020)
Facebook Shops
was announced on May 19th, 2020 and it immediately generated significant buzz. However, there are many questions on features, required integration efforts, and how much revenue it will ultimately generate for businesses.
What is it?
Facebook is enhancing how merchants can list inventory on their FB/IG business 'homepage'. Through a new "Shops" area, users can browse merchandise through curated, image-based product categories. Consumers can purchase products by clicking through to a retailer's website OR checkout directly on FB/IG (the latter option incurs a 5% fee and requires detailed integration with
Facebook's Checkout platform
).
What is it Not:
A ready-to-go new channel that is proven. Facebook Shops is in alpha stage and details are rapidly changing. It will likely be a few months before most merchants can even participate.
How Much Does it Cost?
If you utilize Facebook Checkout (where consumers never leave the FB/IG site or app) it costs 5% of each transaction.
Alternatively
, consumers can simply click-through directly to a merchant's ecommerce website for checkout and there are no fees.
How Much Revenue Will this Channel Drive?
Totally unknown but most sources we talked with were skeptical for many reasons: FB/IG already display products in various forms, there's tons of marketplace competition, and currently Facebook Shops only exists on your FB/IG brand homepage--so traffic could be limited (ads will likely expand this in the future).
I Want Facebook Shops, What Are My Next Steps?
Facebook Shops is not open to most businesses at this time. When your business is eligible to participate, you will receive an email or in-app notification one FB/IG.
If you want to prepare in advance for Facebook Shops, get your "
Facebook Page Shop
" live first (yes, this is actually a separate product from "Facebook Shops") and setup
Instagram Shopping
as well.
FB/IG Checkout:
If you want to integrate with
Facebook Checkout
so customers don't have to leave FB/IG to checkout, the integration effort can be large. Most companies will need API level integration so orders from Facebook can flow to their own ecomm platform. That said, FB/IG checkout is optional and merchants can choose to simply send clicks from Facebook Shops to a product landing page on their website (in this scenario you avoid API integration and the 5% fee). Facebook notes that Checkout on FB/IG will create a more seamless experience for customers, that may be true, however merchants will have to weigh that vs the additional fees, integration efforts, and the more restrictive ways that FB/IG Checkout require you to handle user data (e.g., you may not be able to re-market to purchasers with email offerings etc).
Note that as of June 2020, FB/IG Checkout is a closed-beta meaning most merchants must send traffic to their own website for checkout
.
How is this Different Than...?
"
Facebook Page Shop
", "
Facebook Marketplace
", "
Instagram Shopping
", "
Instagram Checkout
". Facebook Shops essentially takes most of the features across these previous products and rolls it into one. Facebook Shops is just a slightly more polished, next-iteration version for merchants wanting to list inventory on FB/IG.
VersaFeed Integration
VersaFeed can help merchants list on Facebook Shops by creating and uploading product catalogs to FB/IG. We recommend increasing upload frequency and also adding the new "inventory" attribute so FB/IG knows how many products you are allocating (VersaFeed can artificially lower this number to avoid out-of-stock issues). In addition, VersaFeed adds URL tracking parameters to monitor channel success. Clients interested in the optional Facebook Checkout will need integrate with the Facebook API, use an appropriate plugin for their ecomm platform, or work with a
VersaFeed marketplace vendor
.
Conclusion:
Facebook Shops is an evolution of existing FB/IG products that allows merchants to display inventory on Facebook. At this time, there are more questions than answers on Facebook Shops and it is not available to most merchants. In the months ahead, merchants with an emphasis on social media may wish to consider trying the channel (possibly avoiding Facebook Checkout for initial simplicity). VersaFeed can help merchants deploy on this new channel in several ways;
contact your VersaFeed rep
if you'd like more information.
---