New Feature: Timeline
Timeline enables merchants to monitor their product database over time. Using Timeline, merchants can quickly see which products, brands, and categories have been added or removed from their product catalog between two set dates.
By finding new products, brands, and categories merchants can adjust their bidding and grouping strategies in Google, Bing, and other channels. Frequently, merchants have a default bid for their entire product database, and then specific bids for more targeted items. Timeline enables Merchants to easily find new product data and set specific bids appropriate to the new target.
Timeline works by selecting two points in time, "Point A" and "Point B" as seen in the image below: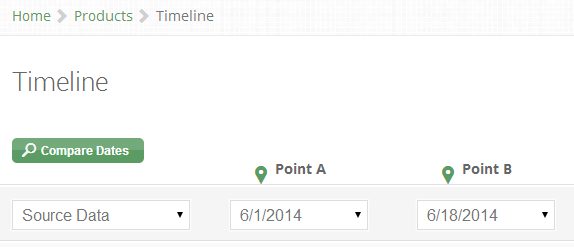 Once a user clicks "Compare Dates", the product database is searched for changes between those two dates. Both new and removed products, categories, and brands are then available for CSV file download via the Download button links on the right, as seen below: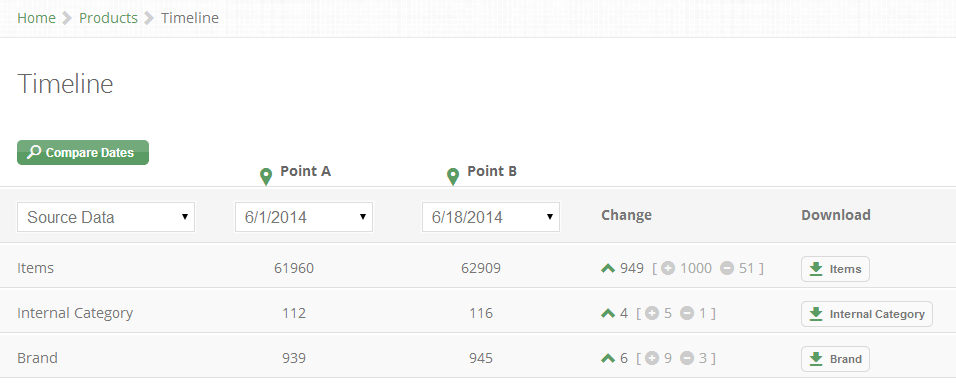 The "Change" column also details the overall number of additions (next to the "+" icon) as well as deletions (next to the "-" icon).
The picture below shows an example CSV file downloaded from Timeline: categories are listed in the left column, and the right column states whether the category was added or removed. The middle column specifies the number of products within the category.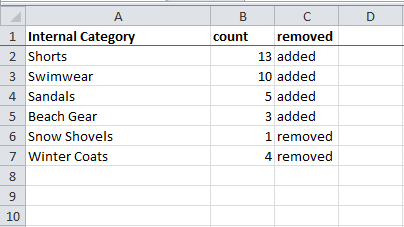 Contact your VersaFeed account manager to start Timeline services today!
Knowledge Base Google Shopping Client Account
---