Google AdWords Product Listing Ads
What Are Product Listing Ads?
Product Listing Ads, or PLA's, are a new ad format on the Google AdWords Network. Google has been beta testing these ads for a year, and as of
November 11th, 2010
, are now allowing all U.S. retailers to utilize the new format. Below are two screenshots demonstrating what these new ads look like (click to enlarge):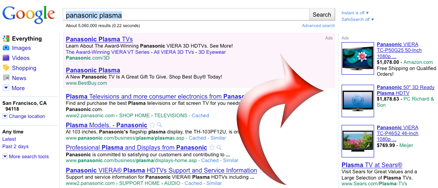 Notice in both of these examples the ads with images in the right hand column (noted with a red arrow). These are the new AdWords Product Listing Ads which have the following unique attributes:
They do not require ad copy to be written.
They do not require manually entered keywords.
They display only the product title, image, price, and retailer name. They optionally can contain a promo message.
They have significantly higher click-through and conversion rates than standard text-based ads.
They are created based on your Google Merchant Center (aka, Google Product Search or Google Base) data feed.
This is an enormous opportunity for online retailers: you can now market your products on AdWords without creating lengthy keyword lists and tedious advertising copy. And, the ads even perform better!
Who Should Use Product Listing Ads?
Online retailers selling at least several hundred products should seriously consider using this new advertising format.
Ideal
candidates for Product Listing Ads are retailers selling several thousand products or more.
Keep in mind, Google will trigger Product Listing Ads only when a consumer has searched for something that is similar to your product titles — if you have less than a few hundred titles, your ads may not trigger often enough to justify using Product Listing Ads.
The Next Step
If you are interested in taking advantage of these new ads, contact VersaFeed today. Product Listing Ads are based on your product data feed, and data feeds are what VersaFeed knows best. Talk with one of our dedicated staff today to receive information tailored to your industry and website.

Google Product Search AdWords Product Listing Ads Google Shopping
---