Feed Driven Product Ads for Groceries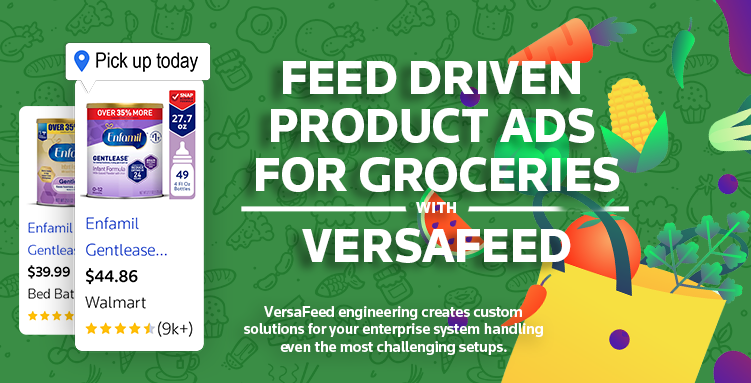 With digital grocery sales on the rise (
predicted to account for 20% of all grocery sales by 2026
), retailers need to ensure they are keeping up. Google and Meta both offer support for product feed/catalog driven ads that not only help drive more traffic to grocers' websites but can also help to promote delivery and store pick up/drive to store as well. According to
Google
, 37% of grocery shoppers said they used a search engine in their most recent shopping journey.
These feed-based programs can be challenging for some organizations to implement due to size complexities and frequent updates, not to mention the logistics of streamlining the data flow itself. VersaFeed has guided numerous grocer dev teams with the back-end support needed to tap into their raw product inventory data for importing.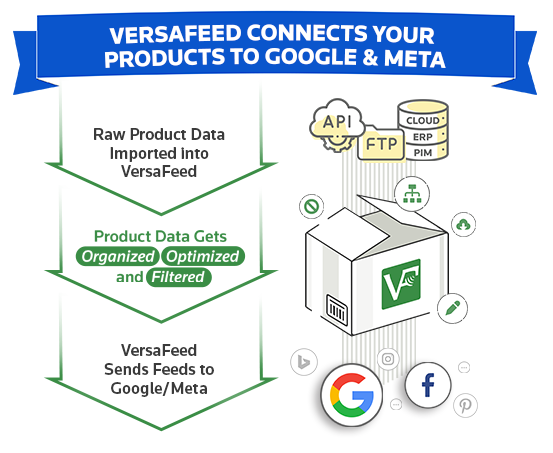 See below for some opportunities that product inventory data can unlock:
Local Inventory Ads to support drive to store efforts.
Customers will be able to see where the item they are looking for is in stock before making the trip to a store with special badges on ads like "Pick up today"
Google also highlights retailers that offer Curbside pickup with a badge on shopping ads.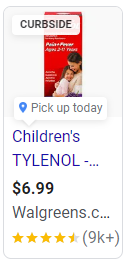 Support your local delivery offering for non store-based set-ups.
Retailers operating with warehouses can promote products available for delivery while dictating delivery geo zones. Google's new Regional Availability and Pricing accommodates this, while Meta also supports via a new beta program called Dynamic Ads for Local Delivery.
Promote sales or specials on products.
Google helps your price standout when items are on sale and also can showcase other types of promotions via a Special offer hyperlink at the bottom of the Shopping ad.
Check out this infographic for a quick recap (click to enlarge):

Google Product Search Meta Product Listing Ads Google Shopping Local Inventory Ads Social Media
---