New Feature: Import/Export for Everything
New Feature: Import/Export for Everything
Premium and Enterprise accounts will now have the ability to import/export rules for all of the VersaFeed tools interfaces, including:
Feed modifications (both individual rulesets and ruleset groups)
Feed exclusion/inclusion lists
Feed categorization
Import/export features utilize CSV files that can be easily modified in programs like Microsoft Excel. By working in a spreadsheet, merchants can easily modify various VersaFeed account settings in bulk.
Merchants will find upload/download links in the various VersaFeed dashboard pages as shown below: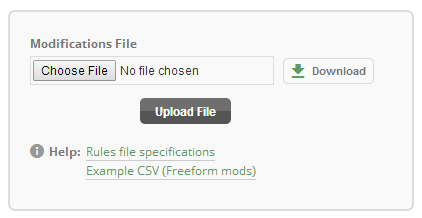 Click the "Download" button to download a current snapshot of your rules; click "Upload File" to upload a local file with your rules back to VersaFeed.
Example use cases include:
Remove or include large SKU lists:
create a few sample exclusions via the VersaFeed dashboard
download the CSV file
modify the CSV file in Excel to add/remove items in bulk
upload modified CSV through VersaFeed dashboard
Applying many Google Shopping custom labels
create example custom labels via VersaFeed Feed Modifications
download the examples in CSV
modify CSV in Excel to add custom labels in bulk
uploaded modified CSV through VersaFeed dashboard
VersaFeed CSV import/export features enable premium and enterprise users to easily modify feeds in bulk. Contact your account manager to upgrade to Premium or Enterprise service level at anytime.