Advanced Source Feed Configuration and Scheduling
Advanced Source Feed Configuration and Scheduling
VersaFeed's new source feed config tools enable users to control source feed import settings and schedules at a granular level. You will find this area by navigating to Products > Import Settings.

Import Settings
This tab handles configuration of where to access source files (FTP, SFTP, HTTP, etc.) and what type of file to expect (CSV/TSV/XML). It allows for multi-file imports, specifying file name patterns, download retries, and error checking (e.g., when to alert if a feed has not been updated).
Schedule
This tab controls all things related to import scheduling and consists of the following 3 areas:
Daily
Enable Imports — Global on/off switch controlling whether any imports can run (Daily and One-off).
Import Times — List of import start times; import durations can vary per account.
Skip days — If day is selected none of the scheduled Daily imports will run.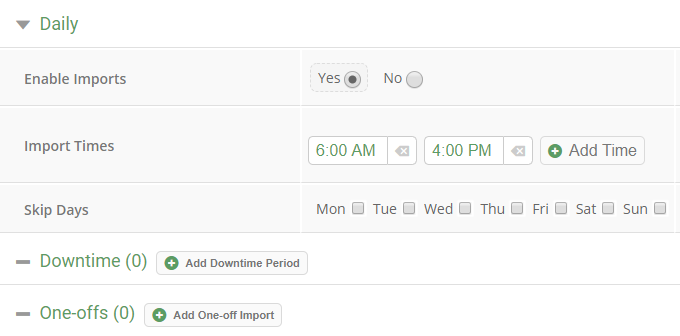 Downtime
During this period of time the Daily import schedule is paused.
For example, you may wish to disable imports over a weekend if you are updating your ecommerce system.
One-offs
Here you can schedule one-time imports for sales/clearances, new inventory, or any other event which requires a one-time feed import.
One-off imports run completely independent of the Daily imports.
Optionally schedule a buffer period before and/or after the one-off import, effectively pausing the Daily import schedule.
VersaFeed's new import settings and schedules give merchants and manufacturers the powerful tools they need to update product feeds at exactly the right time. Have questions or need configuration help?
Contact your VersaFeed rep today
.